Website Maintenance Plans ...
---
...simple

...convenient

...fast
---
Due to the rapidly changing ways that business is conducted these days, you may find that your Web site will need to be updated periodically. Product and service updates, price changes, human resource changes, weekly menus, announcements, or just updating the "look" of your site to keep current.
At NJ MetroNET, you have the choice of 3 ways to manage your website:
1. CONTENT MANAGEMENT SYSTEM
Control, create, and update your own website whenever you want!
You can edit your site using our Content Management System (CMS).
No HTML or programming knowledge needed Easy step-by-step, point-and-click website creation process guides you from start to finish. More powerful HTML editing capability is also available to those who choose to use this feature.
Easy Web Editor - You are in complete control with our Text Editor! With a click of your mouse, choose your font size, face, color, text alignments, add hyperlinks, and much more! If you know Microsoft Word or how to write an email, you already know our Text Editor. Absolutely NO HTML required!

Unlimited Editing Feature - Just enter your content, upload your images, and make unlimited edits to your website at any time!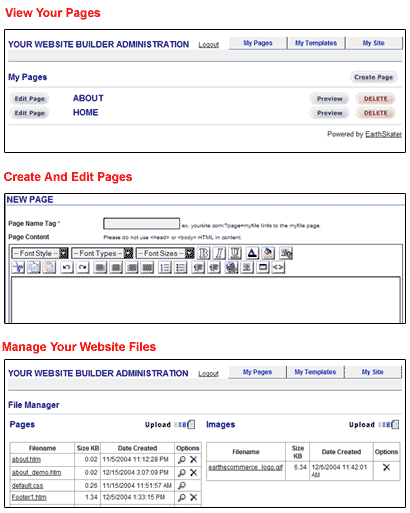 2. PURCHASE "HOUR BLOCKS"
If your website does not need to be updated too often, you can purchase blocks of hours. Just give us a call and we will update and make any changes to your site up to the number of maintenance hours you purchased from us.
At each revision, we'll also take a look at how you are showing in the search engines, check "meta tag keywords and descriptions", and make sure all links are still in order and properly working.
3. HOURLY PLAN
If you do not choose a maintenance plan, you may call us at any time to request changes to your website. You will be billed at $45/ HOUR.
---
QUARTERLY STATISTICS
Your site will come with site statistics that you can access anytime. Some may be difficult to interpret or misleading, so we provide you with a report at the end of each quarter which is easy to read and understand. Depending on the hosting plan you choose, the report includes your visitor count, most popular pages, how your visitors found your site and more. In addition, we give you our recommendations to improve your site so you can get better performance from your website.
SITE ANALYSIS
We'll completely review and analyze your site for you, and give you our technical advice, marketing ideas, suggestions for design and layout, and tell you where we feel room for improvement may be needed. We'll put your site through "optimization tests" to be sure that it is performing at its best.

---
Call us TODAY! at 973-769-4275
1st Year Hosting FREE
---
with purchase of any website!!
Have NJ MetroNET design and develop your website, and receive FREE hosting for One Year!!
Call Today - 973-769-4275!
Expires June 30, 2011
---